I've pioneered development in many areas, including some of the first ISM-based RF devices and I was one of the first to embrace the use of CMOS imagers in commercial applications. I hold a patent for a company I co-founded (Inventor, USPAT 6,208,266 for Remote data acquisition and processing system) that used some of the first CMOS imagers available from Motorola, FUGA, Omnivision, VLSI Vision.


https://www.google.com/patents/US6208266

The patent also discusses using various methods to connect these remote telemetry devices to the Internet. Wirelessly in fact...

Yea, I know. They now call it "The Internet of Things" or maybe part of "The Internet of Everything"


Oh well... isn't it great when they now label something you did years ago in 1994? See my marketturd link: http://www.ajawamnet.com/ajawamnet/mama_i_wanna_be_a_maker.html

For some reason the Google PDF download is not searchable. So here's a PDF generated from the Google site that is:

http://www.ajawamnet.com/Patent_US6208266-Remote_data_acquisition_and_processing_system-Google_Patents.pdf

Search it for the word Internet.... Interesting to see GE citing it in their patent 6,411,678 (see the References section of the link to google patent listing).

And it seems like a lot of patents reference it... that's usually a sign that it was significant in some future thing that makes money.

Sigh....

If you read the very end of the aforementioned " Mama I wanna be a Maker " rant on my Marketturd site - I guess I'm more like the Woodcarver in Tao -I try to

do things for the right reasons

.

Not so much for shiny rocks and paper with president's pics on it. It was a great ride with some great people in it. Also note - the enclosure for the prototype of the first unit that was demo'd at a funding event at the Harvard Business Club in 1995 was 3D printed - yep SLA'd. It's starting to melt now.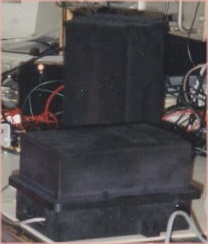 I'm also on other patents for technology such as one for a secure device used by governments and industry to allow uni-directional transfer of data between networks (also known as cross domain systems) (Inventor, USPAT 8,250,235) as well as one for wireless intrusion detection (Inventor, USPAT 7,778,606) with that device making the cover of Government Computer News (I can provide a PDF re-print of the GCN article if necessary).



On the above mentioned patent, as well as the other patent applications pending (you can Google my full name in quotes or do an advanced search on uspto.gov - IN/mitzen) I was the lead designer; in fact all of the patents contain MPEP- class drawings derived from my original design documentation.

I've also developed many products for industrial automation, telecommunications, core network, and network-based security (IDS, firewall, crypto) appliances. All in all I've designed well over 500 products in the past eight years with number probably at 1000 for the entire 18 years of experience in product design. Not in a cursory capacity, but usually in "concept to production" capacities.


I have numerous references, a lot of them in the DC area. I recently won accolades as being one of the best full turnkey PCB design services in the US - this from a firm with engineers in the business for over 40 years. Here are a few direct quotes from some of my recent client's emails to me:





"You're the best PCB guy I've worked with in (ahem!) 40 years of getting boards laid out.

(But let's keep that number our little secret.)"

"Much thanks to Wayne for making the 'complex" - user friendly! I will process the invoice for services upon receipt."


"... but because we have had so many instances of other people who have done software for us that didn't quite work. It has been a real blessing to [company name] to have worked with you, and Wayne (duuude) on the hardware side, on our projects over the last year or two. You guys give us a lot of confidence in the things that we are trying to do."